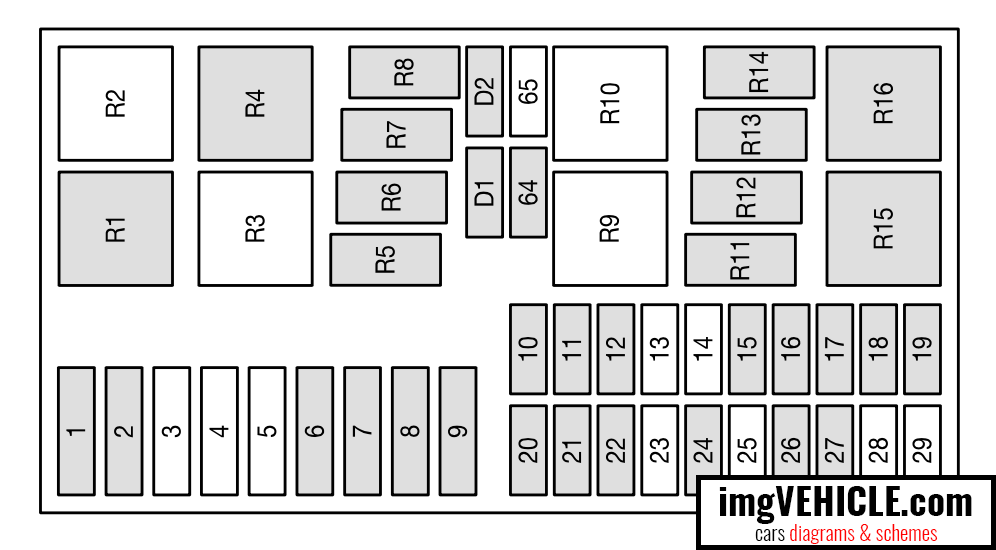 The power distribution box is located in the engine compartment. The power distribution box contains high current fuses that protect your vehicle's main electrical systems from overloads.
Always disconnect the battery before servicing high current fuses.
Always replace the cover to the Power Distribution Box before reconnecting the battery or refilling fluid reservoirs.
| Fuse | Fuse amp. rating | Description |
| --- | --- | --- |
| 1 | 40 | Main power supply to electrical system |
| 2 | 30 | Engine cooling fan (A/C) 2nd fuse |
| 3 | - | Not used |
| 4 | - | Not used |
| 5 | - | Not used |
| 6 | 50 | Engine cooling fan (A/C) 1st fuse |
| 7 | 40 | Main power supply to electrical system |
| 8 | 30 | Ignition switch,starter |
| 9 | 20 | Engine management |
| 10 | 10 | Battery voltage sensor, diagnostic plug |
| 11 | 30 | ABS |
| 12 | 15 | Fuel pump |
| 13 | - | Not used |
| 14 | - | Not used |
| 15 | 10 | AC clutch solenoid |
| 16 | 10 | Low beam (left side) |
| 17 | 10 | Low beam (right side) |
| 18 | 10 | Heated oxygen sensors |
| 19 | 10 | Low beam (DRL) |
| 20 | 10 | Engine management |
| 21 | 20 | ABS |
| 22 | 20 | Low beam (DRL) |
| 23 | - | Not used |
| 24 | 30 | Powered subwoofer |
| 25 | - | Not used |
| 26 | 10 | High beam (left side) |
| 27 | 10 | High beam (right side) |
| 28 | - | Not used |
| 29 | - | Not used |
| 64 | 40 | Heater blower motor |
| 65 | - | Not used |
| Relay | Description |
| --- | --- |
| 1 | Ignition |
| 2 | Not used |
| 3 | Not used |
| 4 | A/C diode |
| 5 | High beams |
| 6 | Low beams |
| 7 | Fuel pump |
| 8 | Engine management Not used |
| 9 | Not used |
| 10 | Air conditioning |
| 11 | Daytime running lights |
| 12 | Fog lamps |
| 13 | Stop lamp inhibit relay (AdvanceTracT only) |
| 14 | Engine cooling fan level 2 (A/C) |
| 15 | Engine cooling fan level 1 |