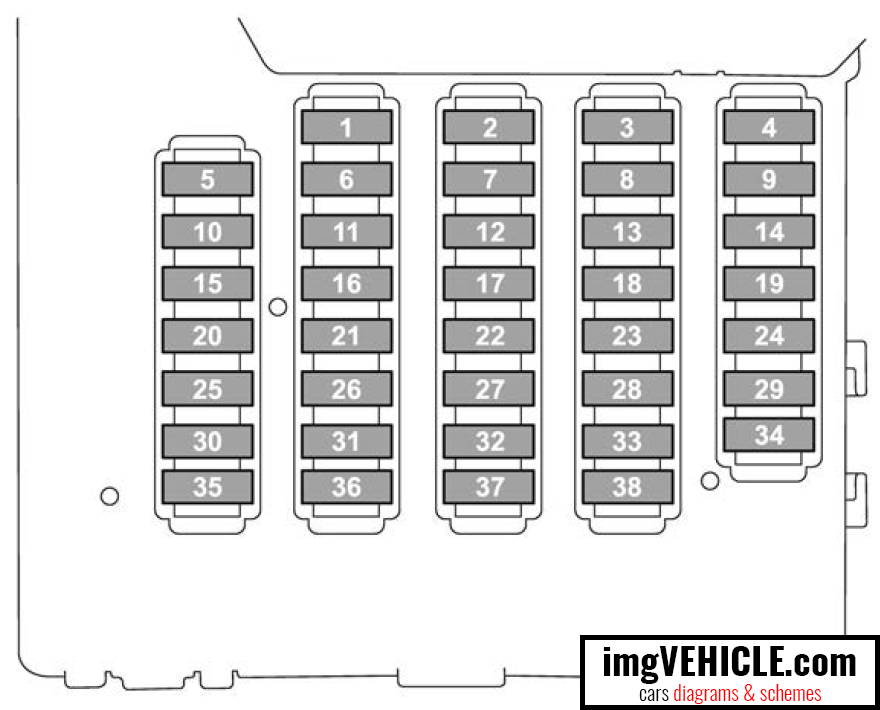 The fuses are designed to melt during an overload to prevent damage to the wiring harness and electrical equipment. The fuses are located in two fuse boxes.
One is located under the instrument panel behind the fuse box cover on the driver's seat side. To remove the cover, pull it out.
The other one (main fuse box) is housed in the engine compartment.
| Fuse panel | Fuse rating | Circuit |
| --- | --- | --- |
| 1 | 7.5A | START1 |
| 2 | 20A | 12V SOCKET |
| 3 | 7.5A | IG1-1 |
| 4 | 15A | AUDIO NAVI |
| 5 | 15A | UNIT IG2-2 |
| 6 | 20A | P/W R.LH |
| 7 | 10A | CIGAR |
| 8 | 15A | A/C IG |
| 9 | 7.5A | ACC |
| 10 | 7.5A | UNIT IG2-1 |
| 11 | 30A | P/W MAIN1 |
| 12 | 7.5A | START2 |
| 13 | Empty | - |
| 14 | 7.5A | UNIT+B |
| 15 | 7.5A | METER IG |
| 16 | 20A | P/W R.RH |
| 17 | 7.5A | MIR |
| 18 | 7.5A | LAMP IG |
| 19 | 7.5A | IG1-2 |
| 20 | 10A | SRS AIR BAG |
| 21 | 20A | P/W PASS1 |
| 22 | 15A | SEAT HTR R |
| 23 | 10A | DRL |
| 24 | 20A | P/W MAIN2 |
| 25 | Empty | - |
| 26 | 10A | BACK UP |
| 27 | 20A | WIPER DEICER |
| 28 | 20A | TRAIL R.FOG |
| 29 | 20A | P/W PASS2 |
| 30 | Empty | - |
| 31 | 7.5A | SMT |
| 32 | 15A | SEAT HTR F |
| 33 | 7.5A | KEY SW |
| 34 | 7.5A | D_OP+B |
| 35 | 20A | SUN ROOF |
| 36 | Empty | - |
| 37 | 7.5A | STOP |
| 38 | 7.5A | EYE SIGHT |