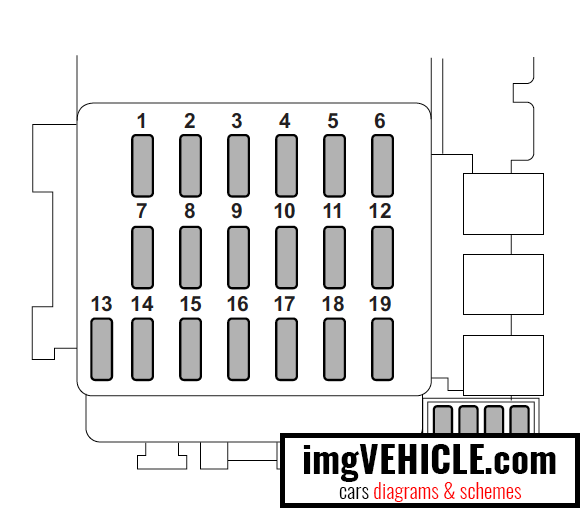 Never replace a fuse with one having a higher rating or with material other than a fuse because serious damage or a fire could result.
The fuses are designed to melt during an overload to prevent damage to the wiring harness and electrical equipment. The fuses are located in two fuse boxes
One is located under the instrument panel behind the cover on the driver's seat side. To remove the cover, pull it out.
The other one is housed in the engine compartment.
| Fuse panel | Fuse rating | Circuit |
| --- | --- | --- |
| 1 | 15A | Heater fan |
| 2 | 15A | Heater fan |
| 3 | 15A | Power door lock, Remote keyless entry |
| 4 | 15A | Power outlet (front), Remote controlled rear view mirrors |
| 5 | 10A | Tail light, Parking light |
| 6 | 15A | SRS airbag |
| 7 | 15A | Fog light |
| 8 | 30A | ABS |
| 9 | 15A | Radio |
| 10 | 10A | — |
| 11 | 15A | Engine ignition system, SRS airbag, AT control system |
| 12 | 10A | Illumination brightness control |
| 13 | 20A | Wiper deicer, Outside mirror defogger |
| 14 | 10A | Meter |
| 15 | 30A | Windshield wiper and washer |
| 16 | 20A | Brake light |
| 17 | 15A | Air conditioner |
| 18 | 15A | Backup light, Cruise control |
| 19 | 15A | Power outlet (cargo) |
| 20 | 15A | Rear window wiper and washer |
| 21 | 15A | Ignition coil (Non-turbo model only) |
| 22 | 15A | Seat heater |
| 23 | - | Empty |