Škoda Kodiaq I - Fuse box
Years of production: 2016 2017 2018 2019 2020 2021 2022
Skoda is a Czech automobile manufacturer whose cars have gained prominence in world markets in a very short period. Skoda was very late into the scene of releasing the SUVs but it captured the buyer's attention in no time. The name Kodiaq was derived from the name of the Kodiak bear which lives in the mountains of the Alaskan region. In fact, for marketing, the name Kodiaq was given to the bear itself. 
Skoda Kodiaq I: Second Generation
The amazing space provided by the car gives the feel of a MUV more than that of an SUV. Be it the length or the other dimensions, it is very large and spacious. The automatic gearbox is provided along with the manual gearbox. The speed control and transmission are possible from the gearbox. About 7 levels of speed can be controlled in this car  
The major minus regarding this car is that there is no diesel variant for this car as of now. One has to go only for the petrol variant. Though the announcement came in the year 2016, the first model of the car was released in the year 2018. The car manufacturer has announced that it would be releasing the diesel variant of the car as soon as possible.  
The electric steer system of the vehicle provides for sharp turning and smooth driving of the vehicle. There are certain angles, a driver is comfortable with. One can pick their comfortable angle due to the excellent design of the wheel.  
As of now, the car hasn't been released in developing countries. The engine system and the other features of the car are tailors made for smooth roads. The manufacturer is working on several methods to increase the supply of the vehicle by triggering the demand for the car by providing exceptional features.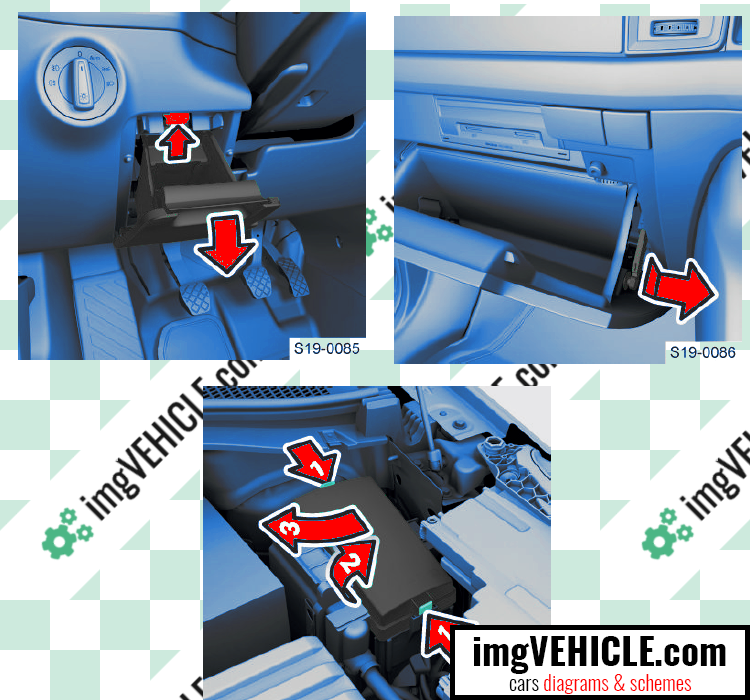 Fuses in the instrument panel
Access to fuses – left-hand drive:
Open the storage compartment on the driver's side.
Press the button and open the tray.
Change the fuse.
Close the storage compartment.
Access to fuses – right-hand drive:
Open the storage compartment on the passenger's side.
Loosen the brake rod of the storage compartment.
Press the locking lugs, the storage compartment folds down.
Change the fuse.
Insert and lock the brake rod.
Close the storage compartment.
Fuses in the dashboard
Access to the fuse block:
Simultaneously press the locking buttons on the fuse box cover and open up the cover.
Remove the cover.
Change the fuse.
Fit the cover and click into place.

All Škoda Kodiaq I info & diagrams provided on this site are provided for general information purpose only. Actual Škoda Kodiaq I (2016-2022) diagrams & schemes (fuse box diagrams & layouts, location diagrams, wiring diagrams etc.) may vary depend on the model version.