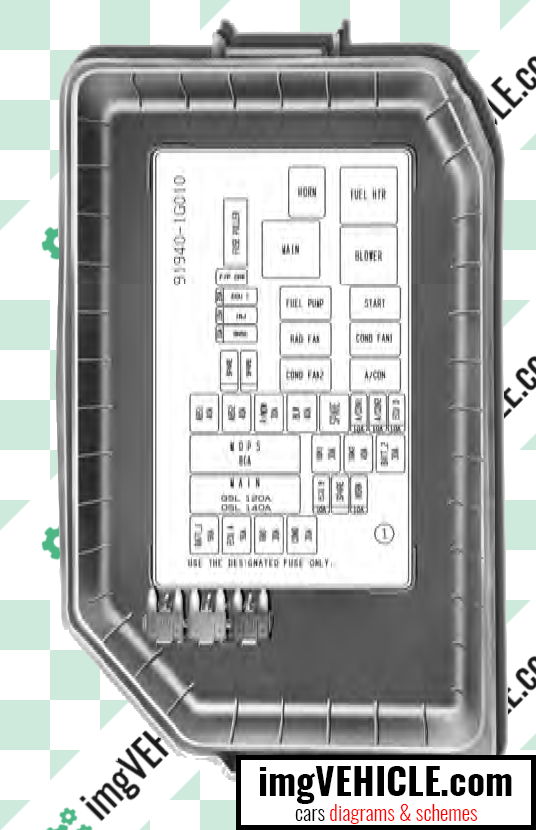 A vehicle's electrical system is protected from electrical overload damage by fuses.
This vehicle has two fuse panels, one located in the driver's side panel bolster, the other in the engine compartment near the battery.
If any of your vehicle's lights, accessories, or controls do not work, check the appropriate circuit fuse. If a fuse has blown, the element inside the fuse will be melted.
| Description | Fuse rating | Protected component |
| --- | --- | --- |
| BATT_1 | 50A | Alternator, Battery |
| ECU A | 30A | Engine control unit |
| RAD | 30A | Radiator fan |
| COND | 30A | Condenser fan |
| ECU B | 10A | Engine control unit |
| SPARE | - | Spare fuse |
| HORN | 10A | Horn |
| IGN1 | 30A | Ignition |
| IGN2 | 40A | Ignition |
| BATT_2 | 30A | Alternator, Battery |
| MAIN | 125A | Alternator |
| MDPS | 80A | Power steering wheel |
| ABS1 | 40A | ABS |
| ABS2 | 40A | ABS |
| P/WDW | 30A | Power window |
| BLW | 40A | Blower |
| SPARE | - | Spare fuse |
| A/CON1 | 10A | Air conditioner |
| A/CON2 | 10A | Air conditioner |
| ECU D | 10A | Engine control unit |
| SNSR | 10A | Sensors |
| INJ | 15A | Injector |
| ECU C | 20A | Engine control unit |
| SPARE | - | Spare fuse |
| SPARE | - | Spare fuse |
| HORN | - | Horn relay |
| MAIN | - | Main relay |
| FUEL PUMP | - | Fuel pump relay |
| RAD FAN | - | Radiator fan relay |
| COND FAN2 | - | Condenser fan relay |
| FUEL HTR | - | Fuel filter heater relay |
| BLOWER | - | Blower motor relay |
| START | - | Start motor relay |
| COND FAN1 | - | Condenser fan relay |
| A/CON | - | Air conditioner relay |