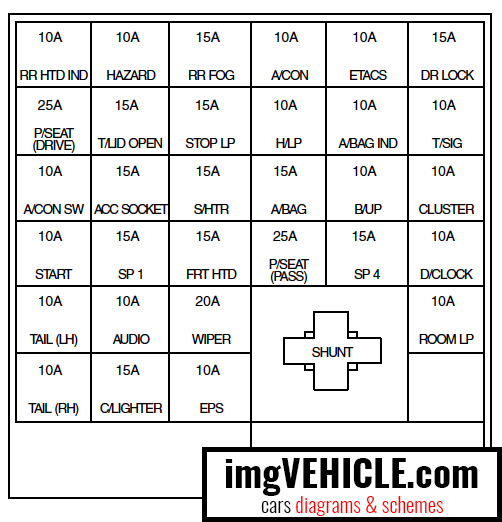 • Never replace a fuse with anything but another fuse of the same type and rating.
• A higher capacity fuse could cause damage and possibly a fire.
• Never install a wire in place of the proper fuse - even as a temporary repair. It may cause extensive wiring damage and possibly a fire.
• Do not use a screwdriver or any other metal object to remove fuses because it may cause a short circuit and damage the system.
If the electrical system does not work, first check the driver's side fuse panel.
| DESCRIPTION | FUSE RATING | PROTECTED COMPARTMENTS |
| --- | --- | --- |
| RR HTD IND | 10A | Rear window defroster, Outside rear view mirror heater |
| HAZARD | 10A | Hazard light, Turn signal lights |
| RR FOG | 15A | Rear fog light |
| A/CON | 10A | Air conditioning system |
| ETACS | 10A | ETACS, Keyless entry system, Door lock system |
| DR LOCK | 15A | Power door lock |
| P/SEAT (DRIVE) | 25A | Power seat |
| T/LID OPEN | 15A | Remote trunk lid |
| STOP LP | 15A | Stop lights |
| H/LP | 10A | Head light |
| A/BAG IND | 10A | Air-bag |
| T/SIG | 10A | Turn signal lights |
| A/CON SW | 10A | Air conditioning system |
| ACC SOCKET | 15A | Power outlet |
| S/HTR | 15A | Seat heater |
| A/BAG | 15A | Air-bag |
| B/UP | 10A | Backup lights |
| CLUSTER | 10A | Cluster |
| START | 10A | Engine switch |
| SP1 | 15A | Spare fuse |
| FRT HTD | 15A | Window defroster |
| P/SEAT (PASS) | 25A | Power seat |
| SP4 | 15A | Spare fuse |
| D/CLOCK | 10A | Digtal clock |
| TAIL(LH) | 10A | Position lights, License plate lights, Tail lights |
| AUDIO | 10A | Audio |
| WIPER | 20A | Wiper |
| ROOM LP | 10A | Dome lights, Front door edge warning lights |
| TAIL(RH) | 10A | Position lights, License plate lights, Tail lights |
| C/LIGHTER | 15A | Cigar lighter |
| EPS | 10A | - |