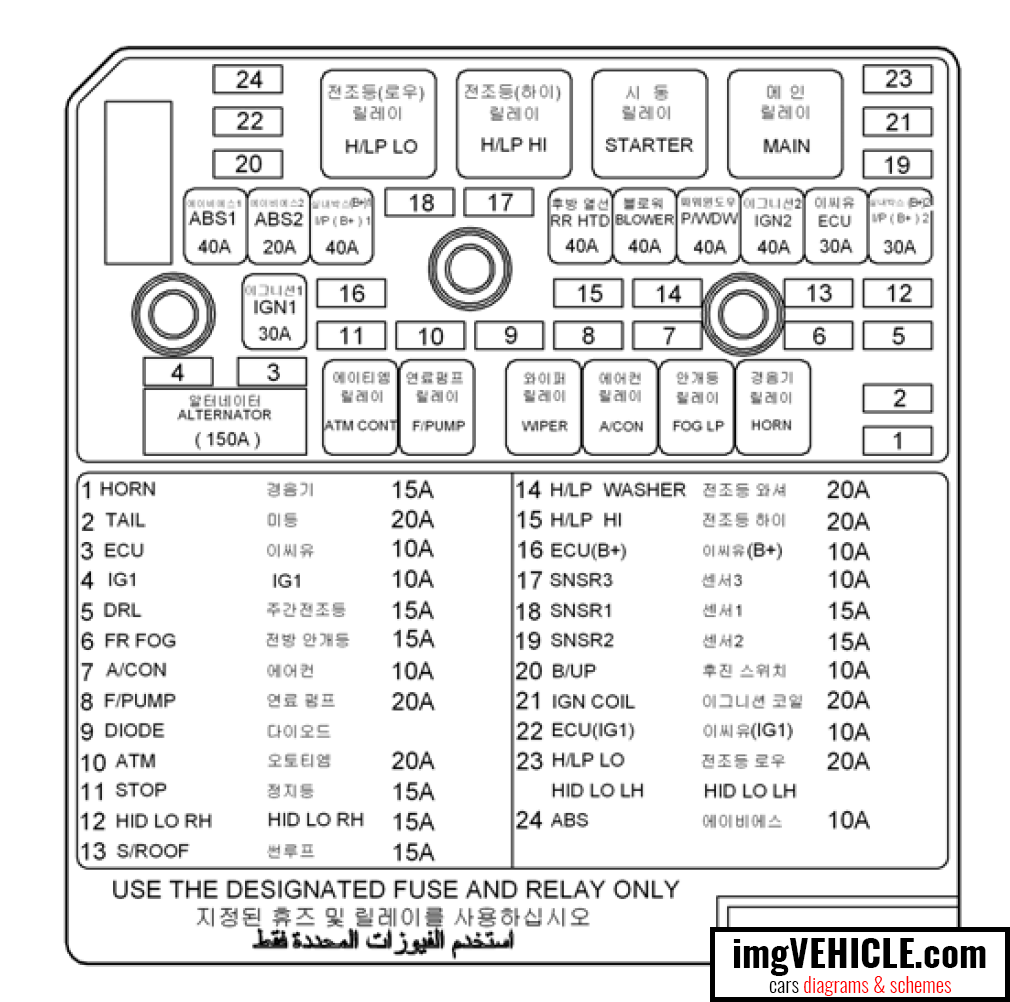 The fuse box for the lights and other electrical accessories will be found on the left side of the instrument panel. Inside the box you will find a list showing the circuits protected by each fuse. If any of your car's lights or other electrical accessories stop working, a blown fuse could be the reason. If the fuse has burned out, you will see that the metal strip inside the fuse has burned through.
A burned-out fuse indicates that there is a problem in the electrical circuit. If you replace a fuse and it blows as soon as the accessory is turned on, the problem is serious and should be referred to a Hyundai dealer for diagnosis and repair. Never replace a fuse with anything except a fuse with the same or a lower amperage rating. A higher capacity fuse could cause damage and create a fire hazard.
Not all fuse panel descriptions in this manual may be applicable to your vehicle. It is accurate at the time of printing. When you inspect the fuse box on your vehicle, refer to the fuse box label.
| Description | Fuse rating | Protected components |
| --- | --- | --- |
| ABS.1 | 40A | ABS/ESC control module, Multipurpose check connector |
| ABS.2 | 20A | ABS/ESC control module, Multipurpose check connector |
| I/P B+1 | 40A | Fuse 23, 24, 30, 31, 32, 33, 34, 35 |
| RR HTD | 40A | Defogger relay |
| BLOWER | 40A | Blower relay |
| P/WDW | 40A | Power window relay, Fuse16 |
| IGN.2 | 40A | Start relay, Ignition switch (IG2, START) |
| ECU RLY | 30A | Engine control unit relay |
| I/P B+2 | 30A | Power connector 1/2, Fuse 21,22 |
| IGN.1 | 30A | Ignition switch (ACC, IG1) |
| ALT | 150A | Fusible Iink (ABS. 1, ABS. 2, RR HTD, BLOWER) |
| MDPS | 100A | (Spare) |
| 1 HORN | 15A | Horn relay |
| 2 TAIL | 20A | Tail light relay |
| 3 ECU | 10A | PCM |
| 4 IG1 | 10A | (Spare) |
| 5 DRL | 15A | Siren relay, DRL control module |
| 6 FR FOG | 15A | Front fog light relay |
| 7 A/CON | 10A | A/C relay |
| 8F/PUMP | 20A | Fuel pump relay |
| 9 DIODE | - | (Spare) |
| 10 ATM | 20A | ATM control relay |
| 11 STOP | 15A | Stop light relay |
| 12 H/LP LO RH | 15A | (Spare) |
| 13 S/ROOF | 15A | Sunroof control module |
| 14 H/LP WASHER | 20A | Headlight washer motor |
| 15 H/LP HI | 20A | Headlight relay (High) |
| 16 ECU | 10A | (Spare) |
| 17 SNSR.3 | 10A | Oxygen sensor, Fuel pump relay |
| 18 SNSR.1 | 15A | Mass air flow sensor, Crankshaft/Camshaft position sensor, Oil control valve, SMATRA |
| 19 SNSR.2 | 15A | A/C relay, Cooling fan relay, Injectors |
| 20 B/UP | 10A | Back up light switch, Pulse generator, Vehicle speed sensor |
| 21 IGN COIL | 20A | Ignition coils, Condenser |
| 22 ECU (IG1) | 10A | PCM |
| 23 H/LP LO | 20A | Headlight relay (Low) |
| 24 ABS | 10A | ABS/ESC control module, Multipurpose check connector |