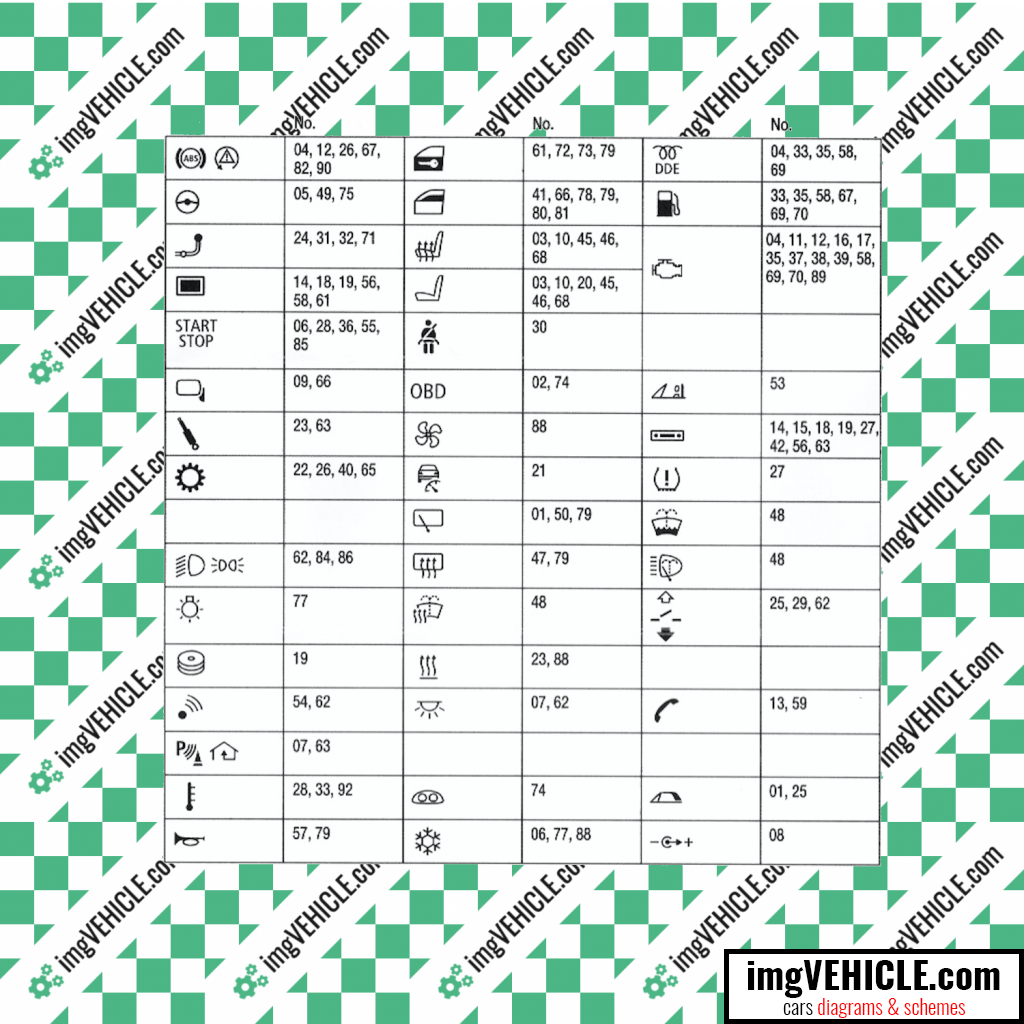 This is unofficial translation of symbols! Use it at your own risk!!!
Fuse boxes may be slightly different depending of the year of production
There's no guarantee of accuracy of information. If you found any error, incorrect or missing info, please leave comment!
Symbols explained below should be accurate to all BMW 3 series (E90/E91/E92/E93)
Never attempt to repair a blown fuse and do not replace a defective fuse with a substitute of another color or amperage rating, otherwise this could lead to a circuit overload, ultimately resulting in a fire in the vehicle
Open the cover in the glove compartment and remove it. Spare fuses and a pair of plastic forceps are set in holders on the distributor box. See the rear of the cover for information on fuse assignment.
Symbol explaination
| Symbol meaning | No. |
| --- | --- |
| DSC Driver, Pass seat adjustment | 4, 12, 26, 67, 82, 90 |
| Cruise control, SMG, active steer | 5, 49, 75 |
| Trailer module | 24, 31, 32, 71 |
| HUD / Centrai info display - (???) | 14, 18, 19, 56, 58, 61, 76 |
| Start/stop system | 6, 28, 36, 55, 85 |
| Electrochromic rear viewmirror | 9, 66 |
| Air suspension | 23, 63 |
| DSC / Gear indicator / Active cruise / SMG | 22, 26, 40, 65 |
| - | - |
| Electronic ride height control / rain / headlight sensor | 62, 84, 86 |
| Light module | 77 |
| CD cganger, body gateway module | 19 |
| Alarm siren | 54, 62 |
| Park distance control | 7, 63 |
| Electric fan | 28, 33, 92 |
| Anti thief alarm system | 57, 79 |
| Door module / OBD2 socket | 61, 72, , 73, 79 |
| Door module / body gateway | 41, 66, 78, 79, 80, 81 |
| Heat, A/C | 3, 10, 45, 46, 68 |
| Car access system | 30 |
| OBD, Ind. Aux heater | 2, 74 |
| Blower output stage | 88 |
| Dynamic drive | 21 |
| Rear wiper relay | 1, 50, 79 |
| Rear window defogger | 47,79 |
| Heating / Air conditioning | 48 |
| Independent aux. heater | 23, 88 |
| Basic body module | 7, 62 |
| - | - |
| Instrument cluster | 74 |
| Heating, A/C cooler box | 6, 77, 88 |
| Fuel heater, secondary air pump relay | 4, 33, 35, 58, 69 |
| Fuel pump relay | 33, 35, 58, 67, 69, 70 |
| DME, IVM | 4, 11, 12, 16, 17, 35, 37, 38, 39, 58, 69, 70, 89 |
| - | - |
| Rollover protection controller | 53 |
| HiFi Amp, TV tuner, video module | 14, 15, 18, 19, 27, 42, 56, 63 |
| Tire pressure control RDV | 27 |
| (???) | 48 |
| Basic body module | 48 |
| Sunroof, panorama glass, convertible top module | 25, 29, 62 |
| - | - |
| Telephone | 13, 59 |
| - | - |
| (???) | 1, 25 |
| Front cigarette lighter, glove box charging socket, rear cigarette lighter | 8 |
Amperage of fuses
No.
Amps
No.
Amps
1
20 A
47
30 A
2
15 A
48
30 A
3
20 A
49
40 A
4
10 A
50
30 A
5
10 A
51
-
6
5 A
52
-
7
5 A
53
10 A
8
20 A
54
7.5 A
9
5 A
55
5 A
10
5 A
56
20 A
11
20 A
57
15 A
12
15 A
58
5 A
13
10 A
59
5 A
14
15 A
60
-
15
20 A
61
5 A
16
10 A
62
7.5 A
17
10 A
63
5 A
18
10 A
64
-
19
5 A
65
10 A
20
10 A
66
7.5 A
21
10 A
67
20 A
22
15 A
68
20 A
23
23 A
69
10 A
24
15 A
70
20 A
25
20 A
71
20 A
26
5 A
72
15 A
27
5 A
73
15 A
28
5 A
74
5 A
29
5A
75
5 A
30
10 A
76
5 A
31
30 A
77
10 A
32
30 A
78
30 A
33
40 A
79
30 A
34
-
80
30 A
35
30 A
81
30 A
36
40 A
82
30 A
37
30 A
83
20 A
38
30 A
84
40 A
39
30 A
85
30 A
40
30 A
86
40 A
41
30 A
87
-
42
40 A
88
40 A
43
-
89
40 A
44
-
90
40 A
45
30 A
91
-
46
30 A
92
50/60 A
Credits for translation and explaination goes to m5board forum member