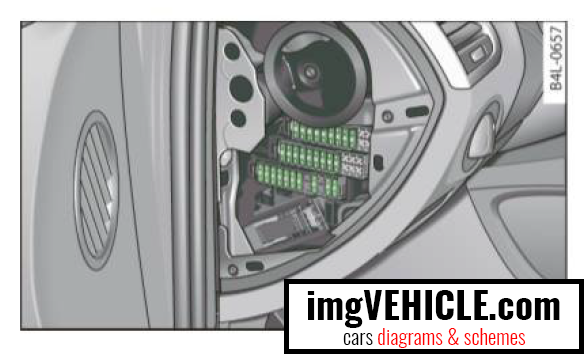 Some of the equipment items listed are optional or only available on certain model configurations .
Note that t he following table is accurate at the time of going to press and is subject to change. In the event of discrepancies, the label on the inside of the cover always takes precedence.
The power seats are protected by circuit breakers, which automatically reset after a few seconds after the overload has been remedied.
No.
Equipment
Amps
Fuse holder (red)
1
Not used
2
Not used
3
Not used
4
Tire pressure monitoring system
5
5
Not used
6
Lumbar support driver's seat
10
7
Window regulators (left side of vehicle)
35
8
Door control module (left side of vehicle)
15
9
Battery energy management
5
10
Electronic ignition lock, power steering column adjustment
30
11
Switch module steering column
10
12
Intelligent power module convenience
5
Fuse holder (brown)
1
Not used
2
Not used
3
Not used
4
Wiper system
30
5
Rain sensor
5
6
Horn
25
7
Intelligent power module driver
30
8
Intelligent power module driver (lights left side of vehicle)
25
9
Intelligent power modu le driver (lights right side of vehicle)
25
10
Instrument cluster
10
11
Headlight washer system
30
12
Diagnostic connector
10
Fuse holder (black)
1
Headlight electronic system (left side of vehicle)
10
2
Adaptive Cruise Control
5
3
Not used
4
Audi lane assist
10
5
Not used
6
Terminal 15 (interior)
5
7
Oil level sensor
5
8
Diagnostic connector
5
9
Automatic dipping interior mirror
5
10
Homelink
5
11
Control module Gateway
5
12
Headlight range adjustment
5