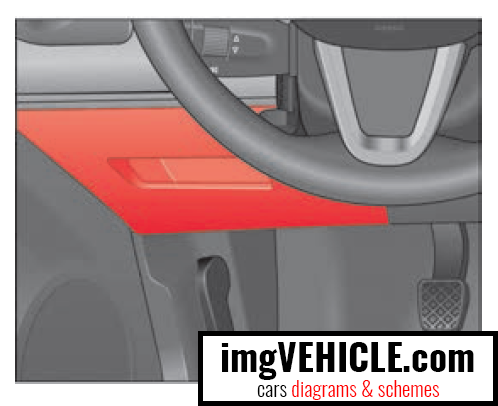 This fuse box is also for: SportCoupé (SC), Estate Car(ST) and Connect.
Never repair damaged fuses and never replace them with fuses with a higher rating. Failure to comply could result in fire. This could also cause damage to other parts of the electrical system.
If a newly replaced fuse blows again after a short time, the electrical system must be checked by a qualified workshop as soon as possible.
If you replace a fuse with higher-rating fuse, you could cause damage to another location in the electrical system.
Always keep some spare fuses in the vehicle. These are available from SEAT dealers
Number
Consumer
Amps
1
Power steering/Engine operation
7,5
2
Diagnostics/Heater/Autoclimate/Climatronic/ Electric anti-dazzle mirror/Navigator/ Air conditioning pressure switch/ Climate fan/ Kisi/ AFS Control unit/Coming home relay/Soundaktor
10
3
Petrol engine control unit/Flow meter/Diesel engine control unit/Relay coils/Engine operation/ Bi-turbo fuel control unit
5
4
ABS/ESP switch (turning sensor)/Light lever
10
5
Reverse light/Heating nozzles
10
6
Instrument panel
5
7
Rear fog light
5
8
Vacant
9
Headlight lever
10
10
Headlight lever/Clutch (Petrol)/Brakes (all)
5
11
Airbag control unit
5
12
Automatic gearbox/ Headlight lever
10
13
Exterior mirror control
5
14
Left-hand AFS headlights
15
15
Right-hand AFS headlights
15
16
12V power socket in luggage compartment
15
17
Number plate light /Dimmer /Side light indicator light
5
18
Dimmer
5
19
Electronic control unit
5
20
Turn signals
15
21
Lights control/ Instrument panel
5
22
Electronic control unit/ Heated mirrors
5
23
Engine injection module/ Rain sensor/ Gear lever/ Starter relay
7,5
24
Glove compartmentlight/ Luggage compartment light/ Interior light
10
25
Parking aid
5
26
Towing hook
27
12 Volt Input/Cigarette lighter
15
28
Lambda probe
10
29
Engine power supply
20
30
Petrol engine operation
10
31
Petrol engine operation/Glow plugs/Relay coil/Bi-turbo electric fan
10
32
Engine control unit
15
33
Clutch switch power supply/preheating relay
5
34
Fuel control unit / Bi-turbo engine supply
15
35
Heated seats control unit/ Console area switch panel (cup holder)
25
36
Main beam headlight, right
10
37
Main beam headlight, left/ComingHome
10
38
Electric fan motor
30
39
Vacant
-
40
Vacant
-
41
Vacant
-
42
Horn
20
43
Panorama roof
30
44
Windscreen wipers
20
45
Heated rear window
30
46
Radio/telephone VDA/Bluetooth/Steering column controls
20
47
Climatronic/autoclimate
5
48
Locking unit
25
49
Front electric window
30
50
Rear electric windows
30
51
Automatic gearbox control unit
30
52
Alarm/Volume sensor
15
53
Electro-kinetic pump relay/bi-turbo fuel control unit
15
54
Reverse light for automatic gearbox/ Fog light
15
55
Transformer on
15
56
Rear windscreen wiper
10
57
Dipped beam headlight (right side)
15
58
Dipped beam headlight (left side)
15