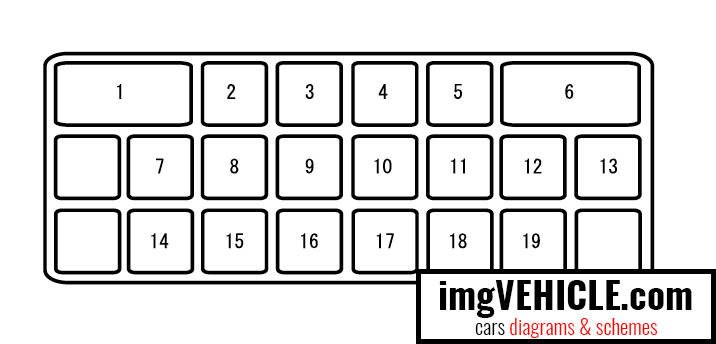 If the electrical system does not work, first inspect the fuses on the driver's side.

1. Make sure the ignition is switched off, and other switches are off.
2. Open the fuse panel cover.
3. Pull the fuse straight out with the fuse puller provided on the inside of the cover for the fuse panel.
4. Inspect the fuse and replace it if it's blown.
5. Insert a new fuse of the same amperage rating, and make sure it fits tightly. If it does not fit tightly, have an expert install it. We recommend an Authorized Mazda Dealer.

If you have no spare fuses, borrow one of the same rating from a circuit not essential to vehicle operation, such as the ROOM circuit.
| No. | DESCRIPTION | FUSE RATING | PROTECTED COMPONENT |
| --- | --- | --- | --- |
| 1 | P.WIND 2 | 30 A | Power windows |
| 2 | OUTLET 1 | 15 A | Accessory Socket |
| 3 | P.MIR | 7.5 A | Power control mirror |
| 4 | OUTLET 2 | 15 A | Accessory Socket |
| 5 | SCR | - | - |
| 6 | WIPER | 20 A | Windshield wiper and washer |
| 7 | M.DEF | 7.5 A | Mirror defroster |
| 8 | P/ST/ENGBAR 3 | 7.5 A | Engine control system |
| 9 | P.WIND | - | - |
| 10 | A/B | 7.5 A | Air bag |
| 11 | ENGINE | 15 A | Engine control system |
| 12 | METER | 15 A | Instrument cluster |
| 13 | ILLUMI | 10 A | Dashboard illumination |
| 14 | ROOM | 15 A | Audio system, Overhead light |
| 15 | R.FOG | - | - |
| 16 | SIREN | - | - |
| 17 | SEAT | 20 A | Seat warmer |
| 18 | A/C | 10 A | Air conditioner |