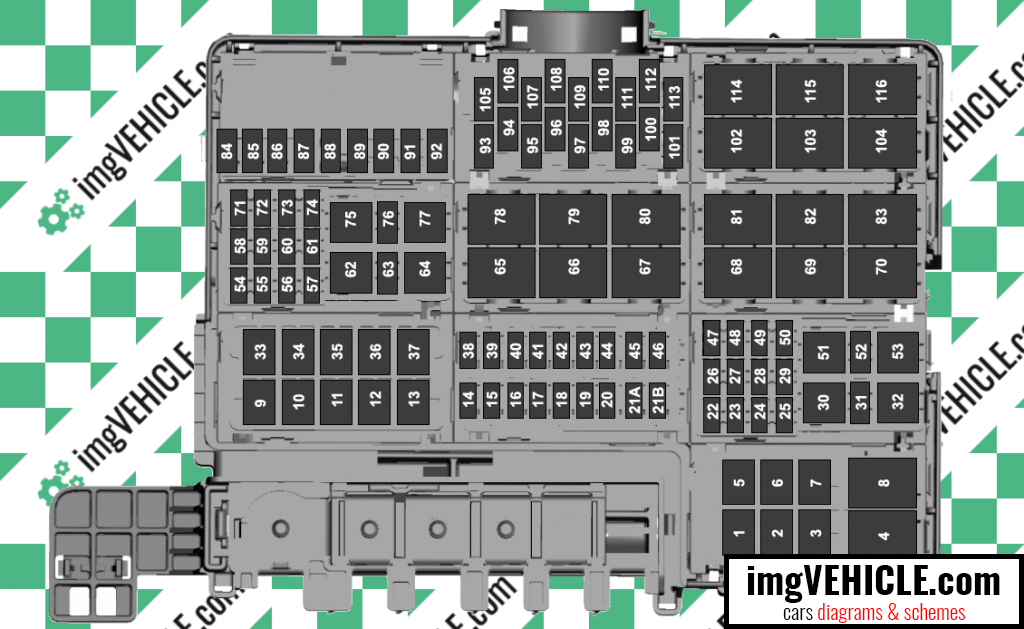 Always disconnect the battery before servicing high current fuses.
To reduce risk of electrical shock, always replace the cover to the power distribution box before reconnecting the battery or refilling fluid reservoirs.
The power distribution box is located in the engine compartment. It has high-current fuses that protect your vehicle's main electrical systems from overloads. If you disconnect and reconnect the battery, you will need to reset some features.
| Fuse or relay number | Fuse amp rating | Protected components |
| --- | --- | --- |
| 1 | - | Not used |
| 2 | - | Not used |
| 3 | - | Not used |
| 4 | - | Telescoping side-view mirror. |
| 5 | 40A* | Rear window defroster. |
| 6 | - | Not used |
| 7 | - | Not used |
| 8 | - | Telescoping side-view mirror. |
| 9 | - | Not used |
| 10 | - | Not used |
| 11 | 60A* | Automatic brake system motor. |
| 12 | 50A* | Body control module 1. |
| 13 | 60A* | Body control module 2. |
| 14 | 20A** | Amplifier. |
| 15 | 25A** | 4x4. |
| 16 | 10A** | Spot light module. |
| 17 | 15A** | Heated seat. |
| 18 | 10A** | Steering-column lock. |
| 19 | 10A** | Power seats. |
| 20 | 15A** | Snow plow, rear heated seats. |
| 21A | - | Not used |
| 21B | - | Not used |
| 22 | 30A* | Windshield wiper motor. |
| 23 | 15A* | Rain sensor. |
| 24 | 25A* | Series fan feed. |
| 25 | - | Not used |
| 26 | 30A* | Driver seat motors. |
| 27 | 30A* | Passenger power seat. |
| 28 | 30A* | Climate controlled seat. |
| 29 | - | Not used |
| 30 | - | Air conditioner clutch relay. |
| 31 | - | Not used |
| 32 | - | Not used |
| 33 | 50A* | Electric fan 3. |
| 34 | 25A* | Trailer tow park lamps. |
| 35 | 20A* | Trailer tow stop-turn relayfuse. |
| 36 | 25A* | Trailer tow lamps module. |
| 37 | 50A* | Electric fan 1. |
| 38 | 10A** | Alt A sensor. |
| 39 | 10A** | Integrated wheel end solenoid. |
| 40 | 15A** | E-locker. |
| 41 | 10A** | Telescoping mirror. |
| 42 | 30A** | Transmission fluid pump. |
| 43 | 25A** | Horn. |
| 44 | 10A** | Air conditioner clutch. |
| 45 | 10A** | Powertrain control module relay coil. |
| 46 | 10A** | Wiper relay coil. |
| 47 | - | Not used |
| 48 | - | Not used |
| 49 | 30A* | Trailer brake control module. |
| 50 | 30A* | Power running boards. |
| 51 | - | Fuel pump relay. |
| 52 | - | Not used |
| 53 | - | Not used |
| 54 | 30A* | Voltage quality module, body-control-module voltage-qualitymodule feed. |
| 55 | 40A* | Body control module RP2 feed. |
| 56 | 20A* | Fuel pump. |
| 57 | 30A* | Right-hand EPB actuator. |
| 58 | 30A* | Left-hand EPB actuator. |
| 59 | 30A* | Starter. |
| 60 | 40A* | Blower motor. |
| 61 | 30A* | Brake control module. Automatic brake system valves. |
| 62 | - | Power seat relay. |
| 63 | 15A** | Heated mirrors. |
| 64 | - | Not used |
| 65 | - | Starter relay. |
| 66 | - | Powertrain control module relay. |
| 67 | - | Windshield wiper relay. |
| 68 | - | Blower motor relay. |
| 69 | - | Power sliding back window relay. |
| 70 | - | Electric fan 1 relay. |
| 71 | - | Not used |
| 72 | 25A* | 4x4. |
| 73 | - | Not used |
| 74 | 30A* | PDRG motor. |
| 75 | - | Horn relay. |
| 76 | - | Not used |
| 77 | - | Steering column lock relay. |
| 78 | - | Not used |
| 79 | - | Trailer tow parking lamp relay. |
| 80 | - | Rear window defroster relay. |
| 81 | - | Notused |
| 82 | - | PDRG close relay. |
| 83 | - | Not used |
| 84 | - | Not used |
| 85 | - | Not used |
| 86 | - | Not used |
| 87 | 10A** | Trailer tow backup lamps. |
| 88 | - | Not used |
| 89 | 20A* | Cigar lighter power point 1. |
| 90 | 20A* | Power point 2. |
| 91 | 20A* | Power point 3. |
| 92 | 20A* | Power point 4. |
| 93 | 25A** | GTDI vehicle power 1. |
| 93 | 10A** | PFI vehicle power 1. |
| 94 | - | Not used |
| 95 | 25A** | Vehicle power 2. |
| 96 | - | Not used |
| 97 | 10A** | Vehicle power 3. |
| 98 | - | Not used |
| 99 | 20A** | Vehicle power 4 (PFI). |
| 99 | 15A** | Vehicle power 4 (GTDI). |
| 100 | - | Not used |
| 101 | - | Not used |
| 102 | - | Snow plow relay. |
| 103 | - | Not used |
| 104 | - | Electic fan 3 relay. |
| 105 | 10A** | Power steering. |
| 106 | - | Not used |
| 107 | 10A** | Anti-lock brakes. |
| 108 | - | Not used |
| 109 | 10A** | Powertrain control module. |
| 110 | 10A** | 4x4 run/start. Adaptive cruise control. |
| 111 | 10A** | Transmission pump run-start. |
| 112 | - | Not used |
| 113 | 7.5A** | Blind spot information system. Rear view camera. Front view camera. Voltage quality module. |
| 114 | - | Electric fan 2 relay. |
| 115 | - | Not used |
| 116 | - | Not used |
*Cartridge fuses
**Mini fuses