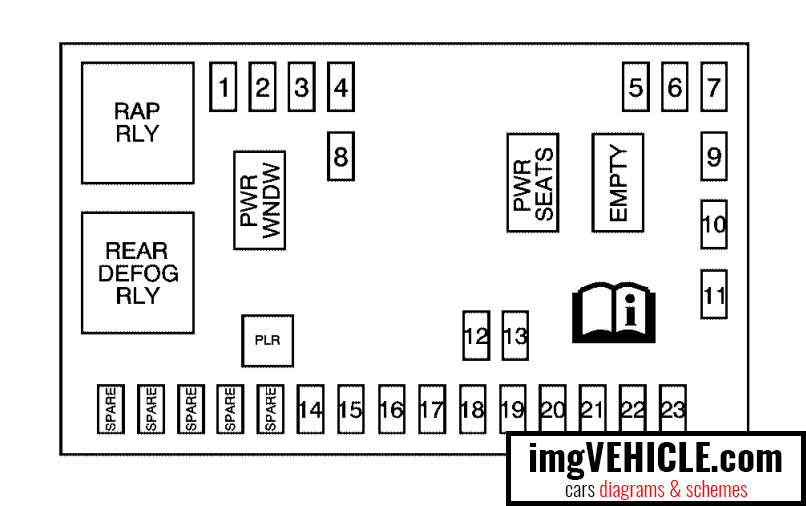 The wiring circuits in your vehicle are protected from short circuits by fuses and circuit breakers. This greatly reduces the chance of circuit overload and fire caused by electrical problems. Your vehicle has an underhood fuse block and an instrument panel fuse block. To identify and check fuses, circuit breakers, and relays, refer to the Fuse Usage Chart on the inside surface of the fuse panel door.
The instrument panel fuse block is located on the passenger's side of the center console, to the left of the glove box near the floor.
Remove the console cover to access the fuse block.
| Fuses/Relays | Usage |
| --- | --- |
| 1 | Sunroof |
| 2 | Rear Seat Entertainment |
| 3 | Rear Wiper |
| 4 | Liftgate |
| 5 | Airbags |
| 6 | Heated Seats |
| 7 | Driver's Side Turn Signal |
| 8 | Door Locks |
| 9 | Automatic Occupant Sensing Module |
| 10 | Power Mirrors |
| 11 | Passenger's Side Turn Signal |
| 12 | Amplifier |
| 13 | Steering Wheel Illumination |
| SPARE | Spare |
| SPARE | Spare |
| SPARE | Spare |
| SPARE | Spare |
| SPARE | Spare |
| 14 | Infotainment |
| 15 | Climate Control System, Remote Function Actuator |
| 16 | Canister Vent |
| 17 | Radio |
| 18 | Cluster |
| 19 | Ignition Switch |
| 20 | Body Control Module |
| 21 | OnStar® |
| 22 | Center High-Mounted Stoplamp, Dimmer |
| 23 | Interior Lights |
| RAP RLY | Retained Accessory Power Relay |
| REAR DEFOG RLY | Rear Defogger Relay |
| PWR WNDW | Power Windows |
| PWR SEATS | Power Seats |
| EMPTY | Empty |
| PLR | Fuse Pulle |