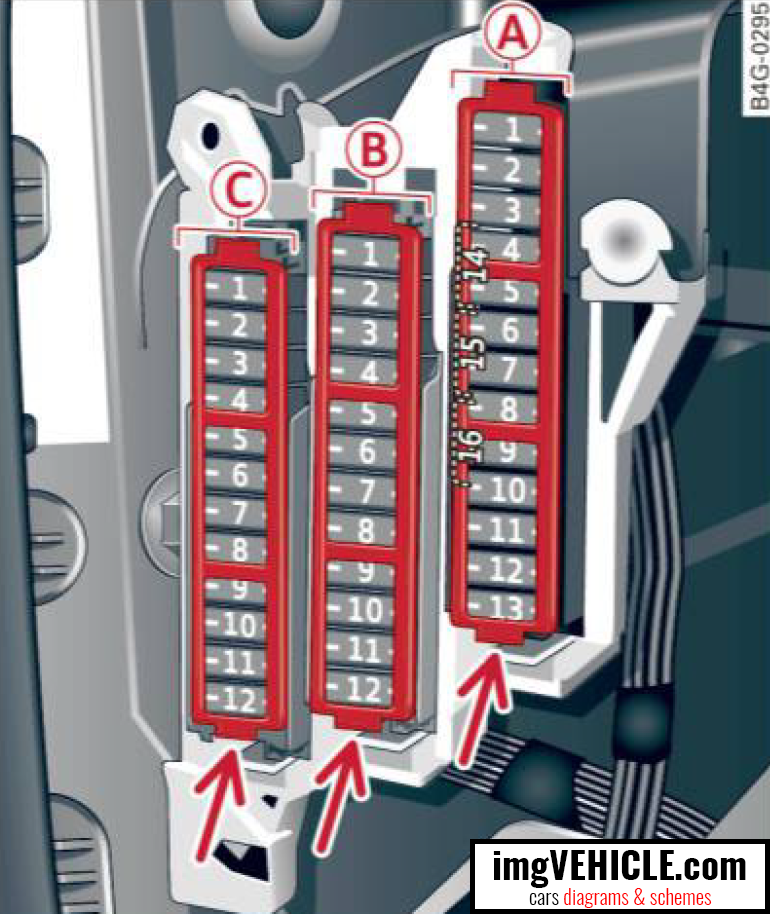 Do not repair fuses and never replace a blown fuse with one that has a higher amp rating. This can cause damage to the electrical system and a fire.
If a new fuse burns out again after shortly have you have installed it, have the electrical system checked by your authorized Audi dealer.
The following table does not list fuse locations that are not used.

Some of the equipment items listed are optional or only available on certain model configurations.
Fuse panel A - black
| No. | Equipment | Amps |
| --- | --- | --- |
| 1 | Switch panel, seat heating, starting assist, control module | 5 |
| 2 | Automatic dimming interior rearview mirror | 5 |
| 4 | Suspension control system sensor | 5 |
| 5 | ESC control module | 5 |
| 6 | Vehicle electrical system control module 1, Vehicle electrical system control module 2 | 5 |
| 7 | Audi adaptive cruise control | 10 |
| 8 | Airbag control module, front passenger's seat sensor system | 5 |
| 9 | Gateway | 5 |
| 10 | Homelink (garage door opener), night vision system control module | 5 |
| 11 | Image processing (Audi active lane assist, Audi adaptive cruise control) | 10 |
| 12 | Steering | 5 |
| 13 | Terminal 15 in the luggage compartment | 15 |
| 14 | Terminal 15 in the instrument panel (front passenger's side) | 30 |
| 15 | Terminal 15 engine | 15 |
| 16 | Starter | 40 |
Fuse panel B - brown
| No. | Equipment | Amps |
| --- | --- | --- |
| 1 | Gateway | 5 |
| 2 | Climate control | 10 |
| 3 | ESC control module | 10 |
| 4 | Front door (driver's side) | 30 |
| 5 | Power seat adjustment (driver's seat) | 7.5 |
| 6 | Steering | 35 |
| 7 | Sunroof | 20 |
| 8 | Rear door control module (driver's side) | 15 |
| 9 | Lumbar support (Front passen ger seat) | 5 |
| 11 | Sunroof, rear spoiler (Sportback) | 20 |
| 12 | Driver door control module | 15 |
Fuse panel C - red
| No. | Equipment | Amps |
| --- | --- | --- |
| 2 | Fuel pump | 25 |
| 3 | Brake light sensor/brake pedal sensor system | 5/5 |
| 4 | Engine acoustics | 7.5 |
| 5 | Rear door control module (driver's side) | 30 |
| 6 | Left rear seat | 7.5 |
| 7 | Horn | 15 |
| 8 | Windshield wiper | 30 |
| 9 | Light/rain sensor | 5 |
| 10 | Lumbar support (driver seat) | 5 |
| 11 | Front passenger door control module | 15 |
| 12 | Right rear door control modu le | 15 |