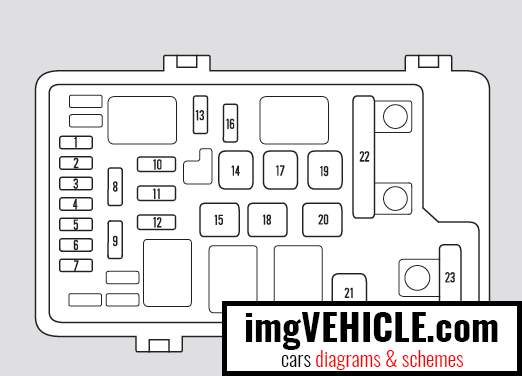 The vehicle's fuses are contained in four fuse boxes (three, if the vehicle does not have a rear entertainment system).
To open the passenger's fuse box, pull the right edge of the cover. The interior fuse boxes are located under the dashboard on the driver's and passenger's side.
The primary under-hood fuse box is on the passenger's side. To open it, push the tabs as shown.
The secondary under-hood fuse box is behind the primary fuse box.
| No. | Amps. | Circuit |
| --- | --- | --- |
| 1 | 10 A | Left Headlight Low |
| 2 | 30 A | Rear Defroster Coil |
| 3 | 10 A | Left Headlight High |
| 4 | 15 A | Small Lights |
| 5 | 10 A | Right Headlight High |
| 6 | 10 A | Right Headlight Low |
| 7 | 7.5 A | Back Up |
| 8 | 15 A | FI ECU (PCM) |
| 9 | 30 A | Condenser Fan |
| 10 | - | Not used |
| 11 | 30 A | Cooling Fan |
| 12 | 7.5 A | MG Clutch |
| 13 | 20 A | Horn, Stop |
| 14 | 30 A | Rear Defroster |
| 15 | 40 A | Back Up, ACC |
| 16 | 15 A | Hazard |
| 17 | 30 A | VSAMotor |
| 18 | 30 A | VSA |
| 19 | 30 A | Option 1 |
| 20 | 40 A | Option 2 |
| 21 | 40 A | Heater Motor |
| 22 | 70 A | Passenger's Fuse Box |
| 22 | 120 A | Battery |
| 23 | 50 A | IG1 Main |
| 23 | 50 A | Power Window Main |
| 23 | 40 A | Power Window Main |