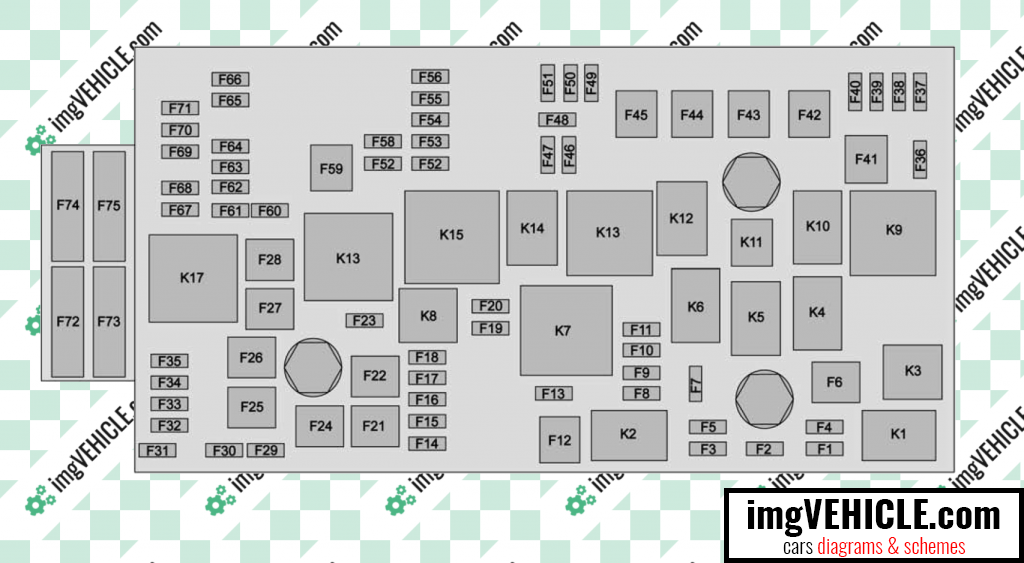 The engine compartment fuse block is in the engine compartment, on the driver side of the vehicle.
The vehicle may not be equipped with all of the fuses, relays, and features shown.
Lift the cover to access the fuse block.
A fuse puller is available inside this fuse block.
Spilling liquids on any electrical component on the vehicle is dangerous and may damage it. Always try to keep the covers on any electrical component.
| Mini Fuses (2 pin) | Usage |
| --- | --- |
| F01 | Traction Control Module Power |
| F02 | Engine Control Module Power |
| F03 | Air Conditioning Compressor Clutch |
| F04 | Not Used |
| F05 | Fuel Module Ignition |
| F07 | Cargo Lamp |
| F08 | Fuel Injectors - Even |
| F09 | Fuel Injectors - Odd |
| F10 | Engine Control Module |
| F11 | Miscellaneous 1 Ignition |
| F13 | Traction Control Module |
| F14 | Not Used |
| F15 | Not Used |
| F16 | Not Used |
| F17 | Front Axle Actuator |
| F18 | Not Used |
| F19 | Aeroshutters |
| F20 | Not Used |
| F23 | Not Used |
| F29 | Not Used |
| F30 | Heated Seat Power 1 |
| F31 | Not Used |
| F32 | Heated Seat Power 2 |
| F33 | Body Control Module 3 |
| F34 | Fuel System Control Module |
| F35 | Not Used |
| F36 | Center High Mounted Stop Lamp |
| F37 | Right High-Beam Headlamp |
| F38 | Left High-Beam Headlamp |
| F39 | Not Used |
| F40 | Not Used |
| F46 | Not Used |
| F47 | Miscellaneous 2 Ignition |
| F48 | Fog Lamps (If Equipped) |
| F49 | Not Used |
| F50 | Trailer Park Lamps |
| F51 | Horn |
| F52 | Not Used |
| F53 | Not Used |
| F54 | Not Used |
| F55 | Not Used |
| F56 | Washer Pump |
| F57 | Not Used |
| F58 | Not Used |
| F60 | Mirrors Defogger |
| F61 | Not Used |
| F62 | Canister Vent Solenoid |
| F63 | Not Used |
| F64 | Trailer Reverse Lamp |
| F65 | Left Trailer Stop/ Turn Lamps |
| F66 | Right Trailer Stop/ Turn Lamps |
| F67 | Electric Power Steering |
| F68 | Not Used |
| F69 | Battery Regulated Voltage Control |
| F70 | Not Used |
| F71 | Not Used |
| J-Case Fuses (Low Profile) | Usage |
| --- | --- |
| F06 | Wipers |
| F12 | Starter |
| F21 | Front Blower |
| F22 | Antilock Brake System Valves |
| F24 | Trailer |
| F25 | Transfer Case Electronic Control |
| F26 | Antilock Brake System Pump |
| F27 | Trailer Brake Control Module |
| F28 | Rear Window Defogger |
| F41 | Not Used |
| F42 | Not Used |
| F43 | Cooling Fan |
| F44 | Not Used |
| F45 | Brake Vacuum Pump |
| F59 | Not Used |
| Midi Fuses | Usage |
| --- | --- |
| F72 | Not Used |
| F73 | Not Used |
| F74 | Generator |
| F75 | Not Used |
| Micro Relays | Usage |
| --- | --- |
| K01 | Air Conditioning Compressor Clutch |
| K02 | Starter |
| K03 | Not Used |
| K04 | Wipers Speed |
| K05 | Wipers Control |
| K06 | Cargo Lamp |
| K08 | Not Used |
| K09 | Not Used |
| K10 | Not Used |
| K11 | Center High Mounted Stop Lamp |
| K12 | Not Used |
| K13 | Vacuum Pump |
| K14 | Park Lamps |
| Mini Relays | Usage |
| --- | --- |
| K07 | Powertrain |
| K15 | Run/Crank |
| K17 | Rear Window Defogger |
| Solid State Relay | Usage |
| --- | --- |
| K16 | Not Used |