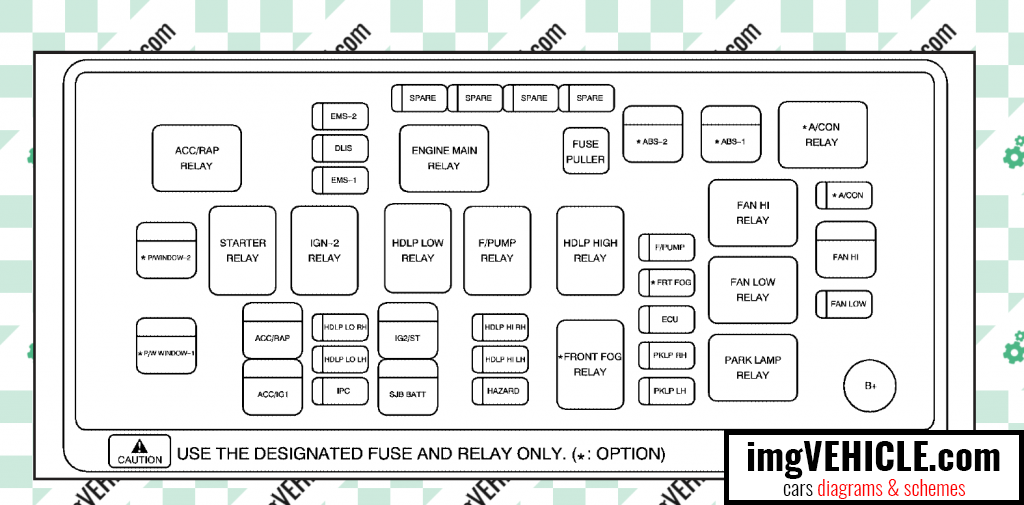 The engine compartment fuse block is located on the driver side of the vehicle, near the battery. See Engine Compartment Overview on page 5-14 for more information on location.
Notice: Spilling liquid on any electrical components on the vehicle may damage it. Always keep the covers on any electrical component.
To access the fuses, press in the side flaps to release the cover. To reinstall the cover, push the cover until it is secure.
Fuses
| Fuse | Usage |
| --- | --- |
| FAN HI | Cooling Fan HI Relay |
| ABS-1 | EBCM |
| ABS-2 | EBCM |
| SJB BATT | Instrument Panel Fuse Block |
| ACC/IG1 IGN1 | Relay |
| IG2/ST IGN2 | Relay, Starter Relay |
| ACC/RAP | Instrument Panel Fuse Block |
| P/WINDOW-2 | Power Window Switch |
| P/W WINDOW-1 | Power Window Switch |
| FAN LOW | Cooling Fan LOW Relay |
| A/CON A/C | Compressor Relay |
| PKLP LH | Tail Lamp (LH), Side Marker (LH), Turn Signal & Parking Lamp (LH), License Lamp |
| PKLP RH | Tail Lamp (RH), Side Marker (RH), Turn Signal & Parking Lamp (RH), License Lamp, I/P Fuse Block |
| ECU | ECM, TCM |
| FRT FOG | Front Fog Lamp Relay |
| F/PUMP | Fuel Pump Relay |
| HAZARD | Hazard Switch, Hood Contact Switch |
| HDLP HI LH | Head Lamp (LH), IPC |
| HDLP HI RH | Head Lamp (RH) |
| IPC | IPC |
| HDLP LO LH | Head Lamp (LH), I/P Fuse Block |
| HDLP LO RH | Head Lamp (RH) |
| EMS-1 | ECM, Injector |
| DLIS | Ignition Switch |
| EMS-2 EVAP | Canister Purge Solenoid, Thermostat Heater, HO2S, MAF Sensor |
| SPARE | Not Used |
Relays
| Relay | Usage |
| --- | --- |
| F/PUMP RELAY | Fuel Pump |
| STARTER RELAY | Starter |
| PARK LAMP RELAY | Park Lamp |
| FRONT FOG RELAY | FogLamp |
| HDLP HIGH RELAY | Head Lamp High |
| HDLP LOW RELAY | Head Lamp Low |
| FAN HIGH RELAY | Cooling Fan High |
| FAN LOW RELAY | Cooling Fan Low |
| A/CON RELAY | Air Conditioner |
| ENGINE MAIN RELAY | Main Power |
| ACC/RAP RELAY I/P | Fuse Block |
| IGN-2 RELAY | Ignition |
| FUSE PULLER | Fuse Puller |